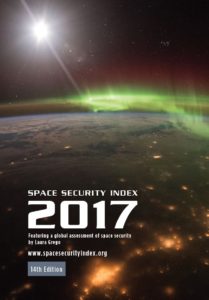 PURCHASE OPTIONS
Pay what you can: the Space Security Index is a non-profit publication. To balance sustainability of our work with a commitment to open access in support of transparency and capacity-building, we ask that you purchase individual copies within your means.
Access full 2017 report (PDF – 2 MB) online ("Pay what you can"):
Credit card orders can be placed by phone during regular office hours (8:30 am – 4:30 pm ET).
Please call Julia Bandura at 519-888-6541, ext. 24302.
Order copies using our order form. (Free PDF version is included with purchase of hard copy.)
PLEASE NOTE: ALL HARD COPIES OF THIS EDITION HAVE BEEN SOLD OUT.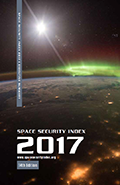 SPACE SECURITY INDEX 2017 EXECUTIVE SUMMARY
Download by clicking here
or on image: (181 KB)